Nitrous Oxide is breathed in along with oxygen and may give a relaxed, detached feeling free of tension and anxiety. Patients will not go to sleep while under nitrous oxide sedation but will remain awake and cooperative. This type of sedative does not take place of Novocain, but is used in conjunction. Nitrous oxide is in no way required for dental treatment, but can be given to patient for a more comfortable and calming experience.
Certain effects while receiving nitrous oxide-oxygen sedation may include but are not limited to: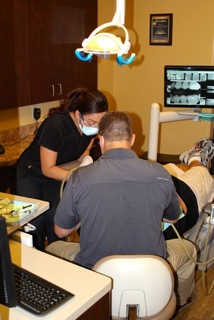 Excessive perspiration- due to the peripheral blood vessels enlarging during sedation.
Shivering- especially after sedation: can be attributed to the dilation of blood vessels.
Nausea- few patients experience slight nausea, if this occurs patient understands that they should mention this to the doctor and /or his/her trained staff; breathing pure oxygen can eliminate this quickly.
Please contact Power Ranch Dental for more information regarding nitrous- oxide sedation. Our phone number is (480) 988-2282 or you can reach us through e-mail at poweranch@yahoo.com.

FREE CONSULTATION